!Created by Troy Wood and the Department of Surrealism, 2000>


presents...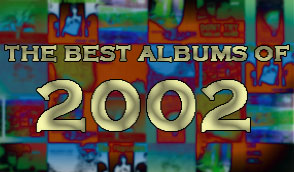 #1

Above the Orange Trees/Christian Kiefer
THE INEXPLICABLE FALLING
(Mudita Records)

One of the best albums I've ever heard, and definitely the best CD to come out this year. Six Jeff Pitcher/Above the Orange Trees tracks and eight Christian Kiefer tracks, and no filler. This album has so many things going for it, I barely know where to begin. Both artists take a stab at covering one of the other's songs, and in both cases the remake is infinitely better than the original. "Erendira" is one of those tunes that makes you want to fall to your knees and weep for your lost love each and every time you hear it. Jeff's vocals and heavy guitar strums interweave perfectly with the expertly spun violin and cello backings, and the end result is a glorious bittersweet masterpiece. Christian's cover of "Sorry My Love" is equally amazing, taking the least impressive track off of Incredible Falling and pouring every last drop of his voice into one last haunting scream for forgiveness. The rest of the album is just as inspired, and Christian Kiefer's half gets extra points for managing to tie together each of his tracks (including the Jeff Pitcher cover) into an 8-part Faustian parable of temptation, sin, and damnation/redemption. If you don't own this album, you don't know what you're missing.
#2

Jacob Golden
HALLELUJAH WORLD
(Rough Trade)

Birthday was one of the single greatest bands to ever emerge from the Sacramento valley, and one of the few groups who really stood a good chance of "making it" before the band's unfortunate breakup two years ago. This long overdue album recaptures a bit of that lost magic, and is sadly not yet available for sale in the US. Fans of the full lineup will be pleased to know that Tony, Gavin, & James are featured on all but 3 of the 12 tracks, so this is equally their baby as it is Jacob's. Most of the "classic" Youth Symphony era tracks made it onto this CD, including "Penny Penny," "Blue Mormon Sweater," and of course, "Jesus Angelina" (though sadly no "Palace Closet" or "Gold Oasis") With any luck, Hallelujah World will be one of the first albums to be released under the purported Rough Trade America label I've been hearing about recently.
#3

Low Flying Owls
Self Titled (EP)
(The Americans Are Coming Records)

The Low Flying Owls are the epitome of "that which does not kill me, only makes me stronger." Though rumors of their death have been greatly exaggerated, this 3-track EP contains some of their finest work yet, even without the expert assistance of bassist Michael Bruce. It's curious to note that both "La, Da, Da" and "April May" are actually rather old LFO songs, and both began as slow acoustic numbers, before being returned to the crucible to emerge in their final hard-rockin' form. The three tracks clock in at just under 20 minutes total, so you get plenty of song for a measly $7.
#4

The Good Life
BLACK OUT
(Saddle Creek)

Who would have thought that Nebraska would produce some of the best new music of the last three years, but the artists on Saddle Creek (including Azure Ray, Now It's Overhead, Cursive, and Bright Eyes, just to name a few) never fail to deliver. Following in the footsteps of Arab Strap, Belle & Sebastian, and Cat Power, The Good Life is one of those bands you either get or you don't. If you like songs about drinking, failure, and fucked up relationships, then this could be the album for you. Black Out is stronger and better structured than their previous effort, Novena on a Nocturn, drifting hazily from mood to mood and in and out of consciousness just like the title implies.
#5

The Velvet Teen
OUT OF THE FIERCE PARADE
(Slowdance)

I almost left this one off the list just out of spite, since we haven't had a Velvet Teen gig anywhere near Sacramento in almost a year, but the boys from Petaluma (or is it Santa Rosa?) have been working hard, touring with Cursive, and just finished their first video (destined to be played once on MTV2 and then buried under a load of rubbish), so I suppose we can forgive them. Out of the Fierce Parade is their first full-length album on an indie label, and really demonstrates how much they've grown since adding bassist Josh Staples to their post-Secret Band lineup. Their vocal and instrumental range is practically infinite, ranging from soaring three-part harmonies to jarring soul-wrenching rock'n'roll screams-- sometimes all within the same song. My only worry is that this album is so good, they might have a hard time topping it when they go back into the studio to record their next release.
#6

Deathray
WHITE SLEEVES (EP)
(Doppler Records)

Bet you never thought you'd see another Deathray album any time soon, but here it is in all it's 5-track EP goodness. I should warn you that this is a rather different band than the one who gave us "Lunatic Friends" and "Now that I am Blind." Yeah, the songs still barely scratch the 3 minute mark, Dana and Greg still deliver dead-on vocals, and the lyrics to "Making Sure it's Canada" make only slightly less sense than those of "Baby Polygon," but without Max (who now has his own band called The High Speed Scene) this is a guitar-heavy synthesizer-less Deathray. I won't say one is better than the other, but at the risk of waxing lyrical, "these days it's not the same..."
#7

Azure Ray
BURN AND SHIVER
(Warm)

Yet another home run for the folks at Saddle Creek. Let me state on record that I don't think Burn & Shiver is their best album, and that November and their self titled debut were much stronger releases, but that's like saying one Picasso is better than another Picasso-- they're both still breathtaking pieces of art. Ethereal female vocals and minimalist piano and guitar riffs that stretch off into infinity, oh my yes! If this band doesn't instantly make you want to make you cuddle up safe and warm with a pretty member of the opposite sex (or whatever your choosing) while storm clouds rage outside your bedroom window, then you're either a tone-deaf eunuch or older than Strom Thurman's grandma.
#8

The Reindeer Section
SON OF EVIL REINDEER
(Bright Star Recordings / [PIAS] Recordings)

The Scottish "super-group" is back, with an even more impressive piece of work than Y'all Get Scared Now. Just in case you've been living under a rock for the past couple of years, The Reindeer Section is what you get if you take 27 of the most talented Scottish musician (including members of Belle & Sebastian, Arab Strap, Teenage Fanclub and Mogwai) and formed them into some sort of indie uber-band, lead by Snow Patrol's Gary Lightbody. Like Sacramento, the Glasgow music community is a very close and tightly knit family. Anywhere else, an album this big would just be a pitiful publicity stunt to boost egos and inflate record sales, but with The Reindeer Section it's truly a labor of love, and it shows.
#9

The Flipsides
CLEVER ONE
(Pink & Black Records)

This album falls into the "about damn time" category. If you weren't lucky enough to grab a copy of their long out of print 5-track back in 2000, then this is probably your first chance to hear one of my all-time favorite female-fronted punk bands. The vocals are great, the rhythms are catchy and the lyrics are sharp enough to poke somebody's eye out. 'Nuff said.
#10

Laptop
DONT TRY THIS AT HOME (EP)
(Trust Me Records)

Laptop is Jesse Hartman, a New York-based musician/actor/filmmaker, and answer to the age-old question, what would happen if David Bowie, Gary Numan, and Stephin Merritt mated? The man has single-handedly resurrected the glory of early 80's analog synthesizers and redefined the art of neurotic pseudo-eurotrash vocals. This 4-Track EP contains the title track from his forthcoming album, plus three revisions of old favorites from his days in the L.A. indie/garage band Sammy. Though the songs aren't nearly as impressive as previous greats like "I'm So Happy You Failed" or "The New You," they still pack quite a punch, and are well worth the effort of tracking down a copy online or through one of the better independent music stores.
#11

The Groovie Ghoulies
GO STORIES
(Stardumb Records)

Ok, I know I said this was a top 10 list, but you didn't honestly think I could compose a list of the best CD's of 2002 and *not* mention the Groovie Ghoulies, did you?
Honorable Mention:

The latest and greatest by: Pyre, Demios, Park Avenue Music (technically a 2001 release, but a 2002 re-release under the Devil in the Woods label), Call Me Ishmael, The Skirts, Parker & Lily, Stars of Stage & Screen, The Mallrats, Estereo, Elena Powell, and Slowdance Record's Translation Music 2 CD (just for turning me on to The Rum Diary, Rubymar, and Superficial Hero)