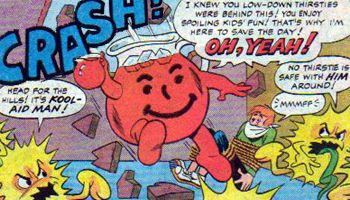 ---
NAME: Kool-Aid Man
REAL NAME: Pitcher Man (Circa 1975)
First Appearance: The Adventures of Kool-Aid Man #1 (1983)
Last Appearance: The Adventures of Kool-Aid Man #6 (1989)

---
SUPER POWERS:
Indestructible adamantium pitcher with built in gyroscopic stabilizer, capable of smashing through reinforced concrete without spilling a single drop.
Cool, refreshing taste all kids love.
Powerful "Oh, Yeah!" battle cry strikes fear into the heart of villains.
---
WEAKNESSES:
Only useful in thirst-related crises, #12 red dye provides lousy camoflage, inability to use doors, gates, or other conventional means of entrance.
---
KNOWN ENEMIES:
The thirsties; a ruthless race of spikey-haired gremlins with advanced weaponary and spacefaring technology light years ahead of our own, dedicated to making the citizens of earth tremble in minor inconvenience.

---
ADDITIONAL:
Kool-Aid Man is one of those hopelessly deluded superheroes who foolishly believes he can make up for his all but worthless superpowers by using them twenty times more often than they're actually needed. I'll admit that very rarely, there might be an emergency situation that can only be solved by smashing through the side of a building in a huge cloud of shattered masonary and shouting the catch phrase "Oh, Yeah!," but chances are Superman's already got it covered. Instead of just admitting his uselessness, Kool-Aid Man spends all his time lurking behind the fence at children's pool parties, hoping that eventually one of them will forget his parents' warnings, and wonder out loud if there's anything left to drink.
Basically, he's just like that annoying waiter who keeps interrupting your meal to ask if you need more ice water or fresh salsa, except 2000lbs heavier, twice as perky, and strong enough to snap cinderblocks with his ass.

---
---
---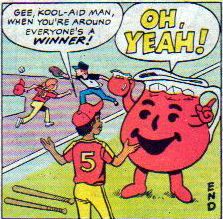 KOOL-AID MAN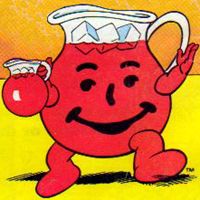 KNOWLEDGE:


05

MENTAL STABILITY:


04

TACT:


03

TOUGHNESS:


10

VIGILANTISM:


07

DETERMINATION:

08

EFFECTIVENESS:

08

POPULARITY:

10

FASHION SENSE:

00

QUOTABILITY:
"OH, YEAH!"

10

SUPER RATING:

65

---

---

---

Pure genius. An indestructable corporate mascot rips a hole through the side of your battlecruiser, exposing your entire crew to the vacuum of deep space, and your plan is to mildly dehydrate him.

After purchasing roughly 250 lbs of powdered fruit drink, a few lucky individuals collected enough Kool-Aid points to receive their very own copy of the Kool-Aid Man video game for the Intellivision or Atari 2600. The game consisted of bouncing a shapeless orange blob (Kool-Aid Man) around the screen, in an effort to prevent other shapeless blobs (thirsties) from totally draining your swimming pool. (a task we normally have to pay illegal immigrants $2.50 per hour to do for us) Though it may have been completely shameless commercial tie-in, it wasn't any less playable than any of the other games for the Atari 2600, and not half as unsettling as some of the other items produced by the Wacky Warehouse™