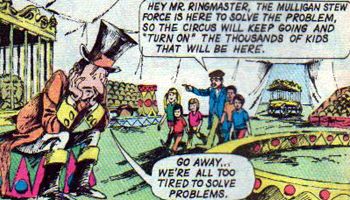 ---
NAME: Mulligan Stew
REAL NAMES: Maggie
Micki
Manny
Mike
Mulligan
& Wilbur Dooright
First Appearance: Mulligan Stew (1975)
Last Appearance: Mulligan Stew (1975)

---
SUPER POWERS:
Cheerful optimism bordering on psychosis.

Able to solve any international crisis with a song about the four food groups, nutritional trivia, or a word scrambles.

Talking frogs.
---
WEAKNESSES:
70's child actor creepiness factor, embarrasing ethnic stereotyping, and Wilbur's dreaded moon food and roaving hands.

---
KNOWN ENEMIES:
The Flim Flam Man-- insidious mustachioed beatnik bent on "pooping out" the whole world with unhealthy fad diets.

---
ADDITIONAL:
Back in the golden age of television, (around 1975 or so) when it was possible to produce children's programing without thinking about merchandising rights or guest spots on the Rosie O'Donnell Show, your local 4-H club got together with the Department of Agriculture to create a six-part musical tribute to the importance of healthy eating, known to the two kids who bothered to watch it as Mulligan Stew.

The series followed the standard educational TV show setup of having a bunch of hyperactive pre-teens left unattended in a garishly painted basement with some sort of Mr. Magoo/Faulknerian man-child hybrid, hired to act as an intermediary between them and the clandestine government agency in charge of monitoring international nutrition-related crime. Despite not being old enough to get on most amusement park rides, the gang was nonetheless expected to travel around the globe exposing the plans of enemy agents, NASA saboteurs, and con artists, and get back in time to be in bed by 8:30pm.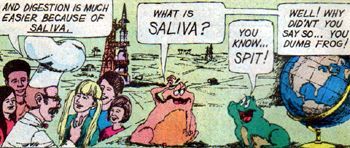 MULLIGAN STEW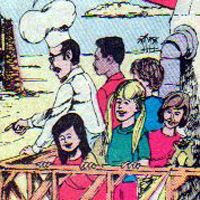 KNOWLEDGE:


09

MENTAL STABILITY:


07

TACT:


06

TOUGHNESS:


02

VIGILANTISM:


02

DETERMINATION:

09

EFFECTIVENESS:

09

POPULARITY:

04

FASHION SENSE:

05

QUOTABILITY:
"4 - 4 - 3 - 2!"

09

SUPER RATING:

62

---

---

---




For anyone who somehow escaped 4th grade nutrition class or slept through Health and Safety in high school, 4-4-3-2 was yet another feeble attempt by the USDA to get you fatties to put down the Slim Jims™ and Shaq Snacks™ and support the struggling economies of Kansas, Nebraska and Iowa by eating as much surplus corn and wheat as your colons could safely handle.
All they really needed to say to us was "Fruits and grains good, fats bad" but that doesn't pay the bills of the trained professionals whose job it was to come up with charts like this one for a living.

It does't matter what euphamism you use, Wilbur. I doubt even Mulligan is gullible enough to help you "launch the rocket" more than once.
Secondly, I may not know much about nutrition, but I do know that if something's red, lumpy, and shooting off sparks, it probably doesn't belong anywhere near my mouth.