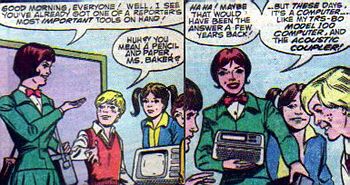 ---
NAMES: Alec & Shanna
REAL NAME: Alec & Shanna
First Appearance: The Computer Trap (1984)
Last Appearance: Safeguarding the Environment (1991)

---
SUPER POWERS:
Every known device in the Radio Shack supply catalog, including the destined-to-sit-broken-in-the-back-of-a-closet Tandy™ brand camcorder and something called "acoustic couplers," which appear to be a large battery-powered electronic device that's immensely popular among the ladies of the series. Hmmm...
Nausea inducing self-affirmation and good will.
Pals with Superman, Supergirl, and Wonder Woman. (Not really a super power in itself, but certainly sufficient to cripple the crime-fighting capabilities of all three superheroes quicker than any crappy scheme Lex Luthor ever devised)
---
WEAKNESSES:
Horrible color-clashing wardrobe even Aquaman would consider a bit too gay.
---
KNOWN ENEMIES:
The world's most incompetent band of kidnappers, drug smugglers, drug smugglers with boats, drug smugglers with submarines, crazy foreign mustachioed drug smugglers, and garbage men who don't recycle. Also, any 5th grader who bothered to read their "educational" comics instead of using the pages to plug up the toilets in the boys bathroom during recess.

---
ADDITIONAL:
Really, what set the whiz kids apart from other teenage heroes were the incredible spastic quality of their arch-villains. We're not talking criminal masterminds here. Oh no. We're not even talking 'smoking a lot of weed in junior college before dropping out to pursue a career in evil part time' level wickedness. We're talking 'needs to put on the safety mittens before they're allowed to brush their own teeth' kind of bad guys. The sort of hardened criminals who's plans for world domination involves kidnapping elderly museum curators and holding them for ransom, phoning in false bomb reports to the police, or cleverly shipping illegal narcotics in boxes marked "daisy wheel printers" rather than just "don't look-- drugs."

Of course, even the best-laid plans tends to fall apart when your evil minions insist upon committing all their crimes in broad daylight wearing the most flamboyant outfits possible (it must be a union thing), and surrender the second they come face to face with a lone police officer wielding a gun, (in this sense they puts even France to shame.)

Let's face it. In the pantheon of supervillains, you have your Dr. Doom. You have The Joker and Green Goblin. You even have the mole people, imperial storm troopers, and Leapfrog. The bad guys from Whiz Kids register only slightly below "elderly couple who drive 35mph on the freeway," "lady who refuses to turn off cell phone during movie," and that 'Steve' guy who does all the Dell commercials.

---
---
TRS-80 WHIZ KIDS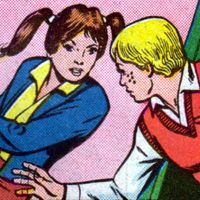 KNOWLEDGE:


08

MENTAL STABILITY:


07

TACT:


03

TOUGHNESS:


01

VIGILANTISM:


06

DETERMINATION:

08

EFFECTIVENESS:

08

POPULARITY:

00

FASHION SENSE:

00

QUOTABILITY:
"Did you ever think school could be this interesting?"

00

SUPER RATING:

41

---

---

---

At least now we know who's been writing President Bush's speeches for the last nine months.

---

---



Wanted: Henchmen. Competitive wages. Full medical and dental. No experience required. Must be willing to wet self and drop weapons at first sign of danger. Lack of peripheral vision or basic motor skills not a problem. No swearing. Send applications c/o Max Fuzzi (terrorist for hire) Note: Must supply own jaunty turtleneck and mexican wrestling mask.