!Created by Troy Wood and the Department of Surrealism, 2000>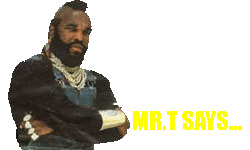 Buy my merchandise, fool!
He arrived when America needed him most-- a dark decade of Reaganomics, cold war paranoia, cocaine addiction, and Alf. His was the name that struck fear into the heart of every fool, for they knew it was only a matter of time until they received his pity. With just a haircut and several hundred pounds of gold chain, he inspired a nation to drink their milk, support neighborhood youth centers, and build armored attack vehicles out of bits of abandoned farm equipment and septic tank.

Now, nearly 20 years later, we pay tribute to the "helluva tough" one the only way we know how-- By embarking upon an exhaustive two-week E-bay bender to see exactly how much embarrassing merchandise we could dig up with his name on it.
Mr. T's EMPIRICAL
SCALE OF TOUGHNESS:

1

2

3

4

5

determined by the mathematical formula:

T = Jazz - (Fool / Pity)
jibba jabba
Mr. T's HIGH BOUNCE BALLS

The package claims Mr. T's balls are "unbelievably bouncy," something I could have happily lived the rest of my life without knowing.


Further investigation reveals that these balls are "not recommended for children under five years of age" and "may be a choking hazard."


Wise words indeed.

TOUGHNESS
RATING:
5
Mr. T BOOKMARK

Sure, those schoolyard bullies may have constantly picked on you for reading during lunch, but with this amazing Mr. T Bookmark you can bet they'll never think of making you lose your place in 'Catcher in the Rye' again!

TOUGHNESS
RATING:
2
Mr. T's A-TEAM ACTION FIGURE

Unlike the flimsy He-Man and G.I. Joe toys released during the mid-80's, the 6-inch Mr. T action figure was made out of a nearly indestructable plastic (except for the head), and looks almost as tough today as when it was released in 1983.
There was also a smaller 4-inch figure available, as well as a much saught after foot-tall talking version, that came with cloth clothes, miniature gold chains, and all of Mr. T's most famous catch phrases!

TOUGHNESS
RATING:
5
Mr. T CHIA PET

It may look like a Saturday Night Live skit, but The Mr. T Chia Pet was a real item produced by TV-Land to promote their new cable network. The bad news is... these babies were never put up for sale to the general public, so if you want one, you'd better be prepared to pay out the ass, like everybody else on E-bay.

TOUGHNESS
RATING:
5
Mr. T: THE CARTOON

Back in the mid 80's, when anybody, and we do mean anybody could get their own cartoon series (Camp Candy, anyone?), Mr. T lent his voice to this NBC saturday morning staple.
If you missed the series during it's original run, it chronicled the misadventures of Mr. T and the American Championship Gymnast Team, as they traveled around the nation from competition to competition, bumping into the usual assortment of spies, smugglers, jewel thieves, kidnappers, and Aztec warriors. Following standard 80's cartoon casting procedures, the team featured five competent gymnasts who learned valuable lessons about teamwork and sharing, plus one completely useless one, who's only skills were being captured within the opening five minutes of every episode, humiliating himself for the sake of comic relief, and clean up after Dozer, the team's loyal anthrpomorphic dog.

TOUGHNESS
RATING:
4
Mr. T CEREAL

The holy grail of cereal collectors and Mr. T fans alike. Mr. T didn't use any stupid crunch berries to add flavor to this part of your complete breakfast, just a big old box of 'T'-shaped yellow blobs, and the magical ingredient: sugar.

Call Quaker and demand it's return today!

TOUGHNESS
RATING:
5
Mr. T JEWELRY

15 pieces of fake plastic jewelry.

Woo-hoo.
Won't your friends be jealous.

TOUGHNESS
RATING:
1
Mr. T AIR FRESHENER

"What does Mr. T smell like," I hear you ask?

After purchasing one myself, I have reached the conclusion that Mr. T must have an odor not unlike a very wet dog drenched with Lemon Pledge.

Despite sitting on a shelf for 10 years, the smell was surprisingly potent, but the double-sided cardboard did curl and separate after a few hours of exposure to direct sunlight.

TOUGHNESS
RATING:
5
Mr. T DISGISE KIT

Want to impersonate Mr. T without giving up your $14.95 haircut? Just put on this amazingly detailed disguise, and even your closest friends won't recognize you. (they may claim not recognize you even after you've taken it off)

TOUGHNESS
RATING:
2
Mr. T & THE T-FORCE

Strangely, these comics appeared on the market in 1993, long after Mr. T's popularity had already started to wane.
Unlike his character on the A-team, this Mr. T refused to carry guns, but did wield a large video camera (sort of like an angry black Michael Moore) and spent most of his time stomping the craps out of drug pushers, gang members, and ninjas who were foolish enough to threaten members of his youth center.
For an in-depth expose of Mr. T's short-lived comic, click here.

TOUGHNESS
RATING:
2
Mr. T TRADING CARDS

Available free with the purchase of Mr. T and the T-Force comics, these cards displayed a colorful picture of the helluva tough one, a short blurb about his life or acting career, and a valuable message from Mr. T himself.

Though not always long (or grammatically correct), his lessons covered everything from self-motivation; "Believe in yourself, and never let anyone discourage you from the goodness you feel about you." to the secrets of academic success; "Comic books (especially MR. T AND THE T-FORCE) are a great way to enjoy reading!"

TOUGHNESS
RATING:
1
Mr. T BUBBLE GUM

They look more like gold bricks to me than chains, but I'm guessing Mr. T didn't receive much of a kickback off this obviously high-quality officially endorsed product.

TOUGHNESS
RATING:
1
Mr. T BUMPER STICKERS

Guaranteed to scare off all would-be carjackers, especially when used in conjuction with the Mr. T Air Freshener.

TOUGHNESS
RATING:
2
Mr. T GIANT CARD GAME

A colorful card game where you have to match top and bottom portions of four different Mr. T poses on four different backgrounds. Fun for minutes.

TOUGHNESS
RATING:
1
Mr. T SHRINKY DINKS

Remember ShrinkyDinks? No? I'm not surprised.

Back in the days before Playstations and Pokemon, children used to entertain themselves by coloring little plastic things with magic markers, sticking them into a preheated oven, and watching them turn into sleightly smaller little plastic things.
All I can figure is that our parents must have been slipping a little something extra in with our Flintstone vitamins.

TOUGHNESS
RATING:
4
Mr. T BEACH TOWEL

Surprisingly large for a child's towel, this colorful item makes a perfect addition to any bathroom using Martha Stewart's red, yellow, and puce color schemes.

TOUGHNESS
RATING:
3
Mr. T WALL CLOCK

What time it it? It could be 9:50 or possibly 8:45. Only T knows for sure. The perfect gift for your lazy unemployed brother who has no concept of time anyways.

TOUGHNESS
RATING:
3
Mr. T PRESTO MAGIX FUN SET

Utilising the very latest in carbon paper technology, the Presto Magix fun set allowed children to transfer colorful images of Mr. T and his cartoon friends from one piece of paper to another after about five minutes of intense, carple tunnel syndrome inducing scribbling. The catch was, unless you scribbled REALLY, REALLY HARD and made damn sure the paper never moved while you were doing it, then your transfer would rip when you lifted off the cover sheet, or come out looking like the cartoonist had drawn it in a snow storm. If you were extremely lucky, you could sometimes line the contact sheet back up with the transferred image and go back over the bits that you'd missed, but more often than not, it just made it look even worse.
Collecting stamps may be a socially ridiculed hobby, but at least stamps can be sold and traded once you take them out of their package (or if you're desperate, used to mail something). Presto Magix transfers compound their own uselessness by not only wasting your time and money, but also ruining your clothes and the surface of the dining room table as well.

TOUGHNESS
RATING:
4
Mr. T WRIST WATCH

Not the automatic locking, gold-plated, full color video, wrist communicators used in Mr. T and the T-Force, but this model does come with two buttons, and an imitation leather strap.

TOUGHNESS
RATING:
3
A-TEAM VIEWMASER SET

An early A-Team related gift set, much cooler than the Snorks one my grandparents gave me.

TOUGHNESS
RATING:
4
Mr. T LITE-BRITE PICTURE REFILL KIT

Fun for girls and boys age four to adult. The Lite-Brite refill kit came with instructions and a black piece of construction paper that allowed kids to make a colorful representation of the lovable Mr. T that looked not unlike an angry baby with a double chin. Sadly, the closest the Lite-Brite staff could get to Mr. T's natural skin and hair pigments were the colors orange an purple, but it didn't really matter anyways, since the guide sheet could have told us it was meant to be Dozer the Wonder Dog, and we'd pretty much have to take their word for it.

TOUGHNESS
RATING:
2
Mr. T's COMMANDMENTS

Following close on the heels of such influential recording artists as David Hasselhoff and William Shatner, Mr. T stepped up to the microphone and bellowed out a seven song children's album to complement his 1984 book and video: Be Somebody, or Be Somebody's Fool.

The album was everything you'd expect (and more), containing such memorable hits as: "Treat Your Momma Right," "The Toughest Man in the World," "No Dope, No Drugs," and the uplifting "Mr. T, Mr. T (He was made for love)".

TOUGHNESS
RATING:
5
Mr. T's WATER WAR

Here's a fun game.

Divide into teams (not three against one, like the box depicts) and hurl wet sponges at a super-deformed plastic Mr. T head. If your aim is true, he'll spit humiliatingly into the faces of your enemies.

This may have been one of the most ill-conceived games ever developed, since if there's one lesson every child on the planet should learn, it's to never throw anything at Mr. T.

TOUGHNESS
RATING:
4